Meet Dr. Kendall VanHorne | Meet the Staff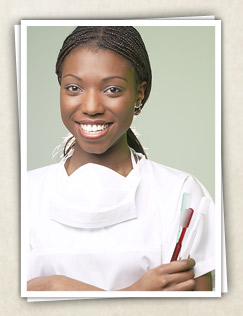 Ranee
Hygienist
I am responsible for educating our patients on how to care for their oral health and make sure that they leave their hygiene appointments with healthy, beautiful smiles. I love getting to know our patients and their families and appreciate the trust they put in me and the rest of our team. We are all proud of the level of dentistry we provide. My husband and I have one son and one daughter. I spend my free time horseback riding, reading, and spending time with my family. I am also currently rehabilitating a Big Horned Owl.
Tania
Hygienist
I provide dental hygiene care, educate patients on improving oral health, and recommend oral hygiene products that will help patients maintain their clean, healthy smiles for life. It is very satisfying to know that I am making such a positive difference in the health and lives of my patients. Our team has a great time at work, but we're very serious about the quality of care we provide. My husband and I have three daughters whom I love spending time with. I also enjoy reading, playing basketball, and going to the lake with my family.
Karrie
Dental Assistant
I assist Dr. VanHorne and our hygienists with patient care, ordering supplies, and occasionally working at the front desk when I'm needed. We have a great group of patients, and I enjoy getting to know all about their families, work, school, and activities. There is always something new to learn here and no two days are ever the same. I have one son and spend much of my time watching his sporting events. I also enjoy time with friends and family, working out, and reading.
Kristina
Dental Assistant
I am responsible for assisting Dr. VanHorne with patient care and sterilizing instruments. Each patient I meet has unique needs, so I always try to be friendly and gentle so they're as comfortable as possible. I love working to restore our patients' health as well as seeing them walk out of the office with a proud and happy smile. Our office has a true team atmosphere, and we all enjoy working together to give patients a great dental experience. My husband and I have one son. Outside the office, I can be found spending time with my family, shopping, and painting pottery.
Sharon
Scheduling Coordinator
I have the wonderful task of greeting patients when they come into the office, scheduling and confirming appointments, answering phones, and checking patients in and out. I love getting to know our patients on a personal level. It is amazing to see families and children grow over the years. We have the friendliest staff in town, and we all love what we do! My husband and I have two sons and one daughter. In my free time, I enjoy traveling, needlework, reading, and baking.
Linda
Financial Coordinator
I can be found in our front office, checking on insurance benefits, making sure patients understand those benefits, doing financial arrangements, figuring out payments due, posting payments, and helping to keep our front office running smoothly. I love meeting new people and making their dental experience as pleasant as possible. My husband and I have four children, four grandsons, and two granddaughters. In my free time, I love spending time in the great outdoors, especially in the summer and fall when I can go boating, camping, and fishing.